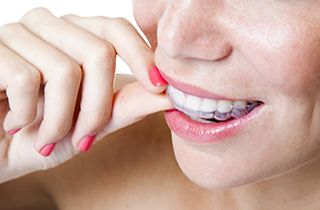 Invisalign in Oxnard is clear and virtually invisible when worn. This is great for adults or anyone who would rather keep the natural look of their teeth.
Invisalign in Oxnard works similarly to braces in that they are worn over time to gradually move your teeth into proper position. However, there are several major differences between braces and Invisalign.
Invisible Braces: Invisalign in Oxnard are clear and they are almost invisible when you have have them on. Invisalign in Oxnard are perfect for adults or anyone who prefers to keep the natural look of their teeth during the orthodontic period.
Convenient: Traditional braces require more effort to maintain and often times trap food, which can be very bothersome to remove. Invisalign removable braces can be easily removed from your mouth so that you can eat, drink, brush, and floss at your covenience without hassle.
No Brackets or Wires: Invisalign braces contain absolutely no unappealing brackets or wires that have the possibility of becoming dmamaged which would require the assistance of your orthodontist to correct.
What You Can Expect with Invisalign Braces Treatment
Invisalign in Oxnard is a system that uses a series of trays to alter the position of your teeth. Unlike braces, these trays do not need to be worn constantly. When you eat, drink, or brush your teeth, you can remove your Invisalign tray with ease. By utilizing 3-D imaging technology, the aligners are custom-fitted to your teeth, providing a more comfortable experience than traditional braces.
Like braces, Invisalign in Oxnard is a process that takes time to work. This length of time varies by case and can only be determined by your dentist, but treatments typically require a year to complete. Occasional visits to the dentist are needed to ensure the treatment is progressing well and to switch trays when it's time for the teeth to shift further.
About Dr. Gil Colmenar - Premier Invisalign Dentist in Oxnard
Dr. Gil Colmenar takes his time with each patient, ensuring all of your needs are met. Our friendly, trained staff and years of experience make this office a convenient choice for Oxnard residents. For more information about Invisalign, call our office at 805.483.6652 or contact us online. We're here to help improve your smile one step at a time!